Project Green Kangaroo is a sustainable investment solution which allows investors to align their financial objectives with net zero emission targets, while supporting the financing of low emissions energy transition.
Click on the video to learn more about the Project Green Kangaroo
AUSTRALIAN CLIMATE TRANSITION ("ACT") INDEX
The first forward-looking index reflective of future climate transition risks and opportunities for Australian companies.
Together with overseas regulators and governing bodies, all three of Australian main financial regulators now have strong statement for their position on climate change and these regulators started urging investors to use scenario analysis to assess their climate-related risks and opportunities.
90% of investors in Australia and New Zealand identified lack of investable opportunities with appropriate risk return factors as the single largest inhibitor to growing green investment1.
Currently few indices in the market capture climate change risk, but they are often based on past or current data, without considering several scenarios for a well below 2°C transition of the economy and the mitigation strategy of the companies.
ACT Index is the first ever forward looking index using the dynamic climate scenario analysis developed by ClimateWorks Australia, the companies' mitigation strategy assessed by ISS ESG, and a unique and powerful scoring process to identify the companies who are likely to perform well during the climate transition in Australia.
1 Source: "Road to Return: Institutional investors and low carbon solutions", Investor Group on Climate Change
ACT Index seeks to identify companies likely to perform well
in a world undergoing a well below 2°C transition, and that
will continue playing a part in the Australian economy in a
net zero emissions world:
Enablers: Companies selling products / services that are
needed to support the transition towards the new
environment
Least Affected: Companies that are likely to be least
affected; current production technologies/ services are
compatible with the new environment
Adaptors: Companies which operate in sectors likely to be
affected by major changes but are well placed to adapt in
the new environment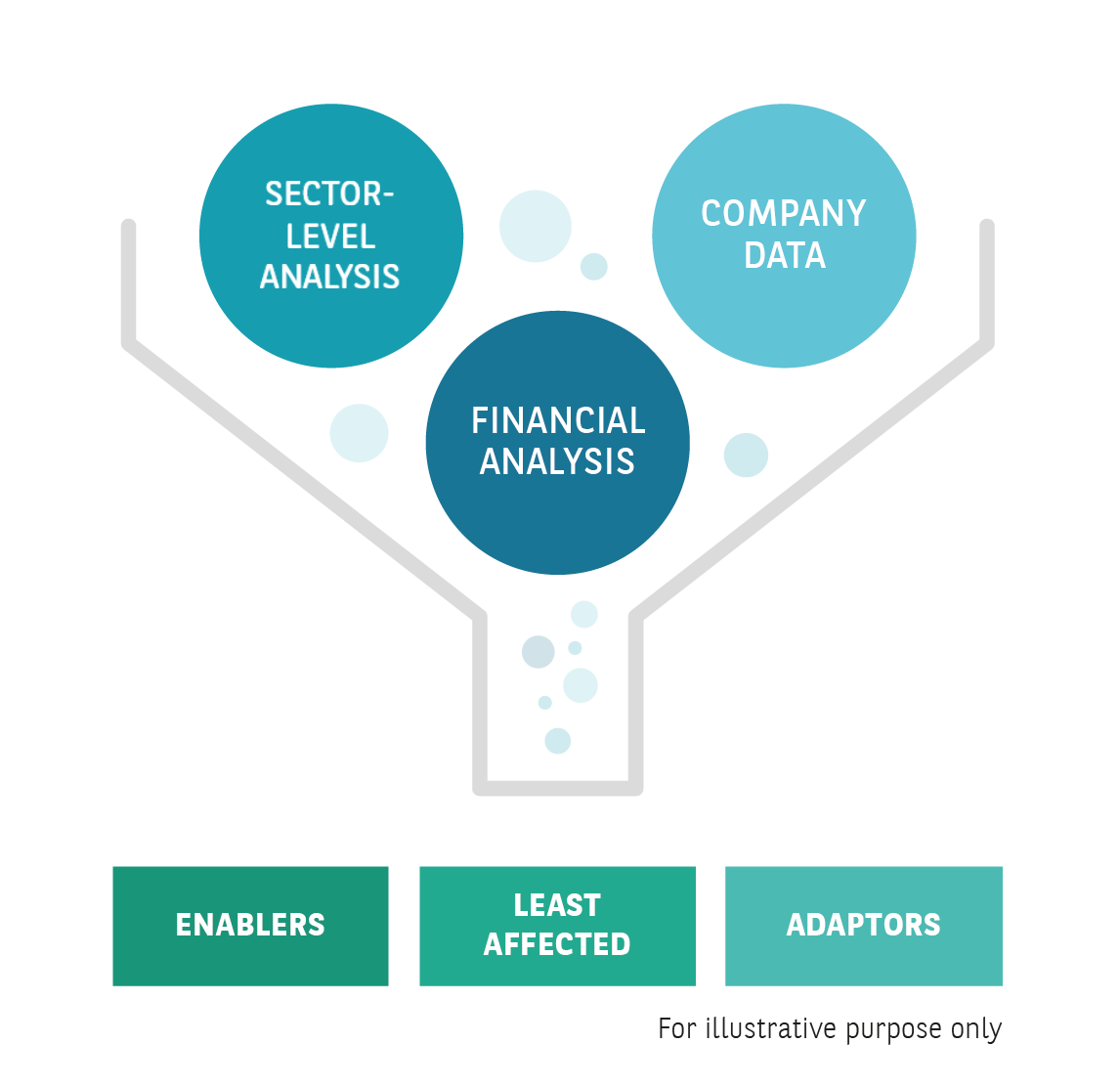 Stock selection process incorporates:
Sector-level analysis: Based on five low-carbon climate scenarios for Australia (including a 1.5°C transition scenario), leveraging detailed sector research on technology, policy and social disruptions
Company data: Robust company specific data, both qualitative and quantitative, on current status and future strategy
Financial analysis: Minimization of financial risks such as liquidity and volatility